Customers are now digitally free. Because Zong make your own offer is there to set a new paradigm shift. Users can choose to subscribe to any Zong packages of their need. So, coming to the point, did you know how to Make Your Own Offer on Zong (in App)?
Zong make your own offer code is *310#. Dial this make my offer code. It will display on the screen all Zong packages right before you.
Zong Make Your Own Offer Details
Zong's Make Your Own Offer essentially addresses the overgrowing need of the broadband users. Pakistan's all cellular services providers have introduced make your own bundle. It is an initiative to digitally empower the users to meet their e-needs.
In today's fast-paced technological world, there is whole lot of options for the users. It is thanks to the sense of market competition the presence of e-service providers has created. So, in order to pick one out a dozen more, there should be some tangible way, right?
Zong make your own offer code is that particular filter. With Zong *36# offer, users can select from daily, weekly, and monthly internet packages. Also, make my offer code lets you pick whatsoever social data for YouTube, Facebook and Whatsapp you want.
Adding on more, make your own bundle Zong app allows you with some more options, too. You can select the incentives like free minutes, other network minutes, call packages, internet packages, TikTok offer, SMS packages, and monthly device packages.
Make Your Own Bundle on Zong App
Please note that Zong make your own offer is a service they provide. And, of course, it is NOT a bundle or package with some incentives to offer. However, you can make your own bundle on Zong app with a specific code. Here we provide you a step-by-step guide to Zong Make Your Own Bundle.
Open up My Zong App and dial the make my offer code *310#
As soon as you dial this code, it leads you to a kind of portal in My Zong App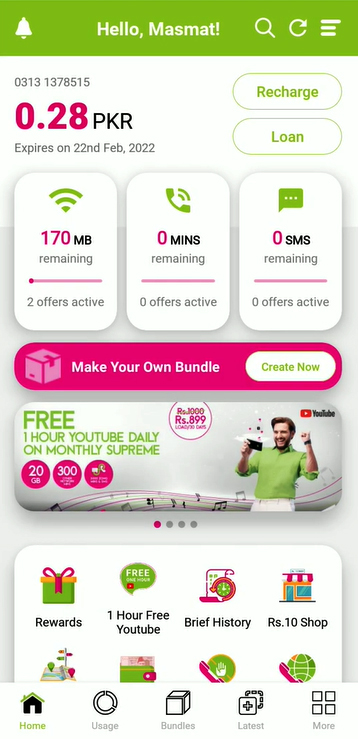 Press "Create Now" to make your own bundle
Make your own offer choosing from the plenty of options in there
The options include Validity, Social Data, Flat Data, Zong Minutes, Off-net Minutes, and SMS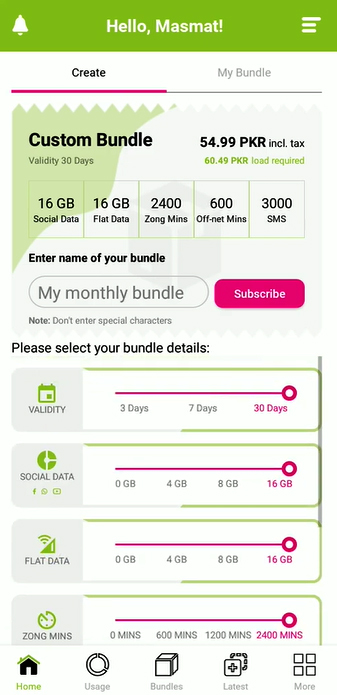 This is how you can create a custom bundle of your choice as per your need. The portal in My Zong App shows complete details about your package. It also shows the overall price for the incentives you have just made.
Now, moving on further, insert below there some custom name of your offer and press "Subscribe." It will then ask for "Confirmations." So, press "Subscribe Now" to make it done.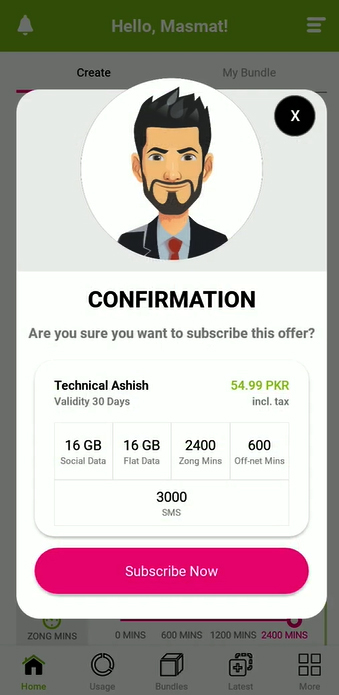 Note: Make sure your SIM is credited with enough balance. Or else, the subscription could simply result into a failure.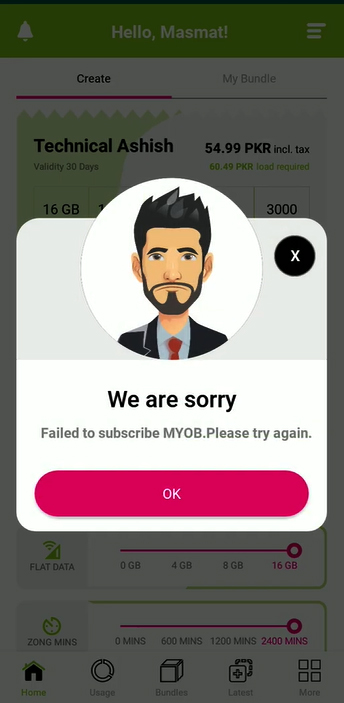 Zong make your own offer is an incurable option for you to have. Not only it is quite handy, but also it is really a benefit to make. Just make your own offer once and say good-bye to all worries.
You may also read: Zong 4G Device Packages
Zong Make Your Own Bundle Check Code
Go to "My Bundle" in My Zong App to check out the currently active packages details. There is no remaining data check code for make your own offer on Zong. User can check out the remining MBs, minutes, SMS, etc. whenever they want. A flick of your mobile screen, and there is all visible to you.
Our Take on May Your Own Offer
Zong's customer-first approach never lets the users regret using their services. Because the telecom brand always focuses on to facilitate their user base in the most innovative and flexible ways. And Make Your Own Offer is one such user-friendly approach.
The country's leading telecommunication organization is determined to provide the most sought-after services and solutions to the users' problems. So, Make Your Own Bundle in My Zong App right now and get started with Zong.
Frequently Asked Questions