Imagine yourself running out of balance in the middle of nowhere. Now what? There is no obvious means available to get recharged. There is when you need someone to credit you with Jazz Balance Share Code. Notwithstanding, getting to know How to Share Jazz Balance is something essential to get hands on.
Dial now Jazz Balance Share Code *100*<Target Number>*amount#. This is how you can transfer a sum of amount to another Jazz number.
Jazz Balance Share Code 2022 – Details
Before we dive deep into the details, did you ever wonder why exactly you need Jazz balance share code? Jazz, being the largest mobile network of Pakistan, has an assortment of call, SMS and internet packages, both for prepaid and postpaid customers.
Moreover, the cellular services proving business brand has some perks of adds-on as well. In case of urgency, as you might face, users are not left broke and helpless. You can reach out someone to make request for balance share. Or it can be you sharing balance with somebody you care about.
Jazz Share is a flexible and user-friendly service to use. With Jazz balance share code you can now share any amount ranging from PKR 15/۔ to PKR 500/۔. Here we provide you complete details about how to share Jazz balance.
Share Jazz Balance Fast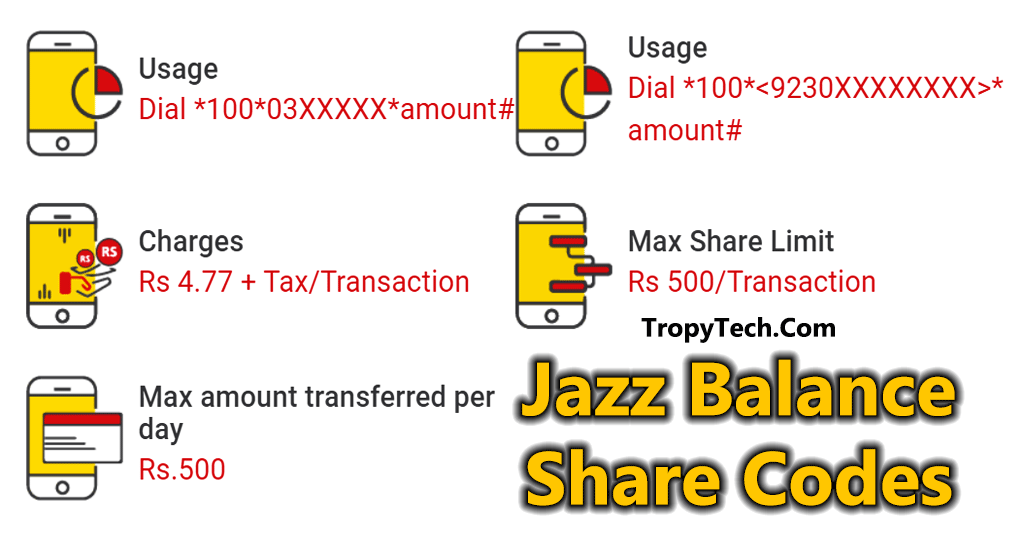 In order to get it done quickly, follow the recommended procedure below.
First, make sure your Jazz prepaid SIM card is Active
If you are making a request, the sender also needs to meet the criteria
Now tap to open up the dial pad inside your device
Follow the actions according to the given format

*100*<Target Number>*amount#
For example: *100*0301XXXXX56*300#

Jazz Share will send a message therein asking to 'Confirm' the transaction
Type "1" to proceed further
Please Note that Rs 4.77 + Tax/Transaction service charges apply each time you avail this offer. Users can reach to a maximum limit of Rs 500 per Transaction. And, more precisely, the maximum amount you can transfer per day is 500/۔ only.
Make Jazz Share Request
Jazz share request is the process other way around. It means that users are not only able to share balance with Jazz, they can make requests, too, if needed.
You can now request Jazz balance anytime, and anywhere, from Party-B, as the company would call it. This includes your family, friends, and acquaintances. This wonderful service offers you enjoy the privileges from your near and dear ones.
First, make sure your Jazz prepaid SIM card is Active
Now tap to open up the dial pad inside your device
Dial *107#
A prompting USSD menu will appear on your screen
Enter Party-B MSISDN to proceed
Please Note that this service is completely free for you. Consider it a Jazz Yaari Load. Because the service charges will be deducted from the senders of the amount. Here we call it Party-B.